At esmale, we've always stocked loads of sexy jockstrap and fetish gear for guys but now the range has got a whole lot bigger!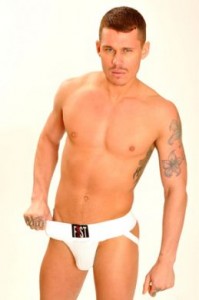 Our jockstrap collection includes top quality brands including Bike, Barcode, Dirty Fukker & Fist. With the latest designs updated all the time, you'll find the perfect jockstrap.
Have you checked out the Fist jockstrap range? We hear that guys like to wear their jockstrap while having sex and a popular choice for guys who want to make an impression at their favourite club or fetish event. (This range is popular with the fetish community). This jock will harness your balls and give lift and support, in fact it's so comfortable you can wear them during the day, too!
Let's face it a jockstrap can provide the right amount of kink to fulfil all your fetishistic needs. So, if you want something that you can remove quicker than you can shout "I'm cumming!" then the Barcode jockstrap is just the ticket. They feature a lace-up front for you (or someone else) to undo.
Available in a variety of styles and colours, these hard-wearing jocks offer unrivalled support to the necessary areas. The lace-up Jock is made to an extremely high quality, and is extremely comfortable too. They hug and grip you in all the right places.
More daring still is the Dirty Fukker jockstrap – the name says it all! Let the sexy 'Dirty Fukker' waistband of this jockstrap-style underwear peek out over your jeans and you're sure to draw attention to yourself for all the right reasons! Made of soft cotton, with a pouch at the front and straps to the back, this will hold you firmly in place whilst bigging-up your bulge, too.
Give your pecker some real pulling power with a sexy jockstrap. See the full range available at esmale here.