The collection of designer jockstraps at esmale includes the latest designs from top ranges such as FIST, Dirty Fukker, Bike and Barcode, whether you're looking for something to wear at the gym or fetish event you'll find the best jockstraps with just the right amount of kink to fulfil all your fetishist needs.
Shopping for a jockstrap is no easy feat – while the jockstrap section lurks at the back of the shop like a hidden shame, with the choice on offer beyond limited but kudos to esmale for making an effort to offer a selection of men's jockstraps with some originality and flair.
FIST Jockstraps
Let the sexy 'FIST' waistband of this jockstrap peek out over your jeans and we're you're sure to draw attention to yourself for all the right reasons! Brandished by the hottest men in gay porn you may have seen your favourite porn star wearing his FIST jockstraps during sex. – his testicles "harnessed", and intense erection poking out the side.
As an added bonus, the FIST jockstraps can be worn under clothes, perfect for the guy who really likes to catch the attention of guys (open and willing if you catch my drift). There is no denying that wearing a jockstrap makes you feel sexy.
The range of jockstraps from sexy young London-based label Dirty Fukker offer supportive, stylish and bold branding is a big hit here at esmale. Dirty Fukker jockstraps are made from the best materials and features an up and out pouch.
The Dirty Fukker jockstrap is made from a soft, brushed cotton-lycra mix, and the waistband and side straps are soft yet sturdy, with all the stitching looking neat and secure. The waistband is 1 ½ inches wide, rather than the more commonly worn 3-inch jockstrap. The waistband sits well below your actual waist anyway – top tip! Hip measurements are probably more relevant.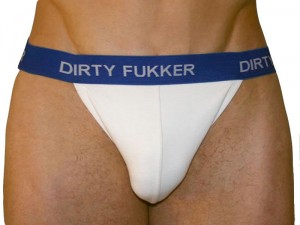 The Dirty Fukker jockstraps unique selling point is of course that naughty logo round the waistband making it a great choice for guys flaunting it at a club, as well as in more intimate surroundings.
Send us a photo of you in your Jockstrap – you could win £25 gift voucher! info@esmale.com
Shop the full range of jockstraps available at esmale here!
Team esmale
Essentially For Men