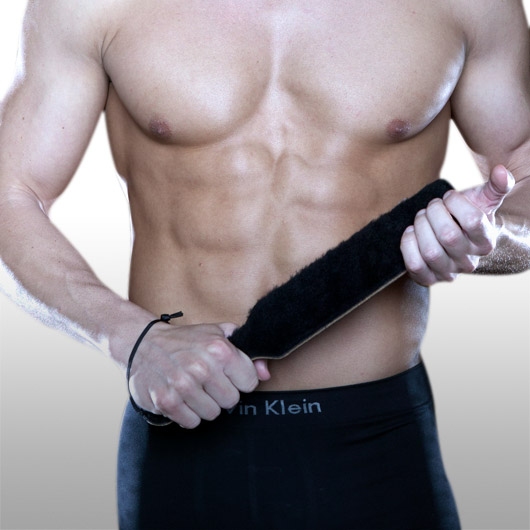 'Slap it, like it's hot!" If enjoy the thrill of spanking you're going to enjoy today's blog! At esmale we have a great range of Whips, Paddles & Slappers that will leave a genuine tire tread mark (or trademark) on the butt of the lucky recipient.
Using whips and spanking paddles is a great way of spicing up your sex life and opening up new sexual avenues for you and your partner to explore. Just like bondage and other BDSM activities, spanking and whipping is a great introduction for guys looking to explore the pleasures of bondage and restraint gay sex toys.
I remember my first foray into the brand spanking new world of paddles, my partner persuaded me to try it. After a few giggles the pain became an overwhelming sensation in itself and helped boost my orgasm.
After, a good old spanking session try stroking, biting and licking the area affected – trust me it's super sensitive and will drive any man mad with ecstasy!
A little research showed that 'this nice sort of pain' is due to the brain releasing chemicals called endorphins to help reduce the pain caused by a spank or slap. You may also relish the physical effect of seeing a temporary mark left on your man's ass, thigh or leg due to the punishment you have dished out.
Role-play and BDSM
Why not try a little role-play? This is the perfect opportunity to indulge yourself and your man in some punishment role-play by using a whip or spanking paddle to dish out small amounts of pain in response to naughty scenarios. It's fun give it ago!
Whip him into frenzy
If you and your partner are just exploring BDSM activities such as whipping and spanking we recommend the Manbound Rubber Whip, with plenty of rubber fronds this will to spread the impact. Get your rubber whip at esmale.
THWACK!
But if you or your man prefers a good, hard thwack of a paddle, check out the Manbound range of impression paddles. The 12-inch Manbound leather Slut impression-spanking paddle is real treat for guys looking to add a little kink in the bedroom.
This is range of quality leather paddles with satisfyingly stiff wide handle and a flexible end that will a leave a red imprint that appropriately reads "SLUT" on your partners arse. Made of two split layers of top-quality leather and stitching. This paddle is flexible enough to give a reassuringly firm whack! This gay sex toy features a steel ring and wrist strap mean you can carry or hang it anywhere. Bend over! And take it like a nasty Slut. Get your 'SLUT' impression paddle at esmale here!
Check out the fantastic range of whips, and paddles that are guaranteed to leave a lasting impression on the behind of your partner. Other impression paddles include, PIG and Boy. Click here to see the full range of Whips, paddles & slappers available at esmale.

Team esmale
Team esmale essentially for men!