Now you're preparing to stuff the turkey, slumped in front of the telly, Here at esmale we are busy looking back at the highlights from 2012 and preparing for an even bigger 2013.
Our gay sex toys blog has received more attention than ever and is we are glad you enjoyed reading it and sharing your own stories with us.
The results are in and below are the top 10 blog posts from 2012 (drum roll please)
1. Chris Porter Tweets picture of his gay sex toys collection
Porn star Chris Porter is has proven to be the most popular blog post. I wonder why? Has it got anything to do with the fact he's one of the hottest guys around. Here's that pic again☺P.s. you can find that big gay dildo at esmale.com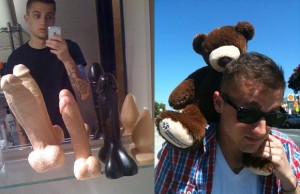 2. Gay Toys
We search the globe looking for the latest and best gay sex toys. In a variety of shapes, colours we were one of the first websites to introduce OXBALLS to you.
3. Finding the right dildo for you!
With so many to choose from it can be a difficult task choosing the best dildo for you. This blog features plenty of helpful tips on how to get the best dildo for you.
4. Aneros MGX Prostate Massager review
We love hearing from you! This customer review went down a storm. Check out the full range of Aneros prostate massagers available at esmale.com
5. OXBALLS Cock Ring
From one of the best selling brands here at esmale we just cant get enough of the OXBALLS range of cock rings and it seems you can't either.
6. Vibrating Anal Toys
When a dildo is just not enough! Make it vibrate and it will make your ass shake. Check out the new additions to our anal vibrators
7. King Kong, Ding Dong – Huge Vibrator
When BIGGER is better #teambottom knows what I'm saying, the KING KONG anal vibrator was a welcome addition to our anal toys collection.
8. How to conquer the BIGGEST gay dildo
For those of you looking to explore your limits let esmale show you how it's done. This blog is all about how to get the most out of your dildo. So whatever you do don't forget your lube. For those of you looking for something bigger check out the latest category appropriately titled huge anal toys.
9. Relax it's just anal sex
The ingredients needed to make anal sex as enjoyable, comfortable as possible. A personal favourite of mine
10. Steve Jones realistic gay dildo
Not what you think it is… but Hilarious nonetheless!
Team esmale
essentially for men