We've seen them advertised in the back of gay lifestyle magazines. Don't worry you're not alone in thinking that those tacky black and white penis pumps adverts are void of any sexy and lack a certain amount of erotic appeal.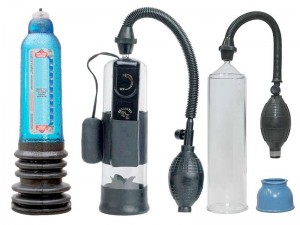 Here at esmale we have brought together a collection of penis pumps and enlargement tools designed not only give you a bigger more plump penis they but will create intense sensations (some say it even feels like a blow-job) and over time you'll see an increase in the length and girth over time!
Using a pump is easy, check out our step by step guide below to help you get the most out of your penis.
Step 1 'Get-it-up' start with an erection.
Step 2 Apply a water based lube to the seal of the penis pump and your penis, this makes sliding your penis in easier.
Top tip: applying lube to the opening will create an airtight seal for more thorough pumping.
Step 3 Insert the shaft of your penis into the cylinder until the base of the pump is sitting firmly against your body.
Step 5 Take control of the pump and slowly start to squeeze the pump. Feel the suction and allow your penis to adapt to the sensations.
Step 6 You will notice your penis looking a lot firmer and more plump.
Step 7 Once you're happy what the results stop and slowly release the pressure and pull your big penis from the cylinder
If at any point you start to feel any discomfort or pain during the pumping, STOP. Read the instructions carefully, it is not recommended you use your pump for longer than 20 minutes each day otherwise you risk bursting a blood vessel or worse.
Once you remove your penis from the cylinder your penis will return to its original size. Penis pumps are not a miracle worker, but with time and patience soon you will notice some great results.
If you're using the pump before sex we recommend wearing a cock ring to help maintain a bigger, stronger erection for longer.
Check out the fantastic range of penis pumps available at esmale.com
Team esmale
Essentially for men