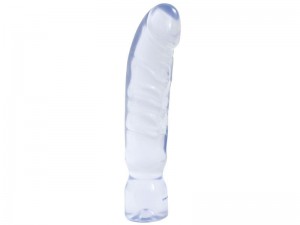 If you like your dildo long and fat, you've come to the right place! Here at esmale, we have just put together a list of all our best selling 'huge anal toys'.
The Doc Johnson Big Boy 12 inch dildo is built with anal sex in mind, apply plenty of waterbased lube to the dildo and your and anus and you're ready to insert it into your anus.
The Big Boy features a thick base for grip, control and thrusting (if playing with a partner). Why not prop it up on the floor by its base.
If you're looking for something a little more realistic check out the BASIX 10 inch Clear Dong with Suction Cup and balls. This dildo stands tall with realistic balls and veins that add to the overall texture and look.
For those of you looking for a little more buzz for your buck take a look at the King Kong anal vibrator. A firm favourite with the guys, it seems you just can't get enough of this bad boy. Here's what you had to say about it:
Review "…love the feel of this dildo's material and the effect is utterly orgasmic when slid inside your anus. The head is a tapered making for smooth entry, while the textured shaft packs a stimulating punch".
Don't take our words for it check out the full range of anal dildos available at esmale today.
Team esmale
Essentially for men