This beast measures in at a whopping 14 inches long and 3 inches in diameter and should not be taken lightly. How much of the new King Kong Anal Vibrator can you take?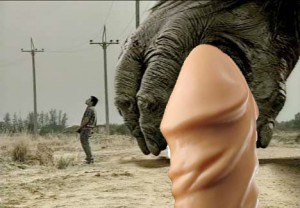 This beast is impressive, it features a fat mammoth tapered head and a thick shaft. You'll have a job to get your fingers all the way round this. Painted a realistic flesh colour and its irregular, vein-laced shaft for extra stimulation.
This is definitely one for #teambottom This is a tale of length and girth and should be appropriately filed under friction. This one fills you up to the brim (and more). It's a fabulously thick thing top to bottom, and is firm but smooth exterior.
Unlike most realistic dildos this one comes with a vibrator, simply twist the dial to increase the intensity.
If anal stretching is right up your street, then you will find this anal vibrator a dream. Buy the King Kong anal vibrator at esmale, or check out our full anal vibrators range.
p.s. If this is really is molded on someones knob as the literature claims, I want his number!!!
Team esmale
essentially for men