A butt plug can create a satisfying, stretched out feeling that can stimulate the male prostate perineum and all those tingly nerve endings that (believe it or not) hold the key to bigger erections, and orgasms and ejaculations! Controlling this bad boy will take your anal play to a whole new level. It's not uncommon for a guy to experience multiple orgasms.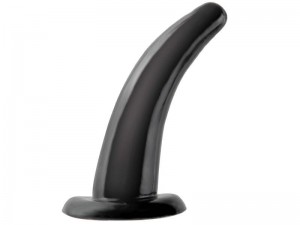 BASIX P-Spot Butt Plug
The BASIX P-Spot Butt Plug is just 5 inches making it the perfect choice for beginners and those looking to explore the pleasures of prostate stimulation. A small and manageable butt plug is a great option for men who wish to explore this special erogenous zone. This plug features a nicely curved shaft that resembles a horn shape.
Top tip: The prostate is actually only a couple of inches or so inside your anus. So at just 5 inches long this toy to be just about perfect.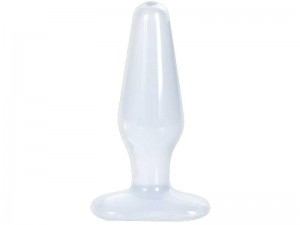 Doc Johnson Medium Butt Plug
The Doc Johnson Medium Butt Plug is the best selling butt plug at esmale. This medium-sized butt plug is ideal for anal sex beginners looking to move onto bigger anal sex toys or for advanced anal players warming up for bigger things.
From top male sex toys manufacturer Doc Johnson, this butt plug measures 5 inches in girth and 4.6 inches in insertable length.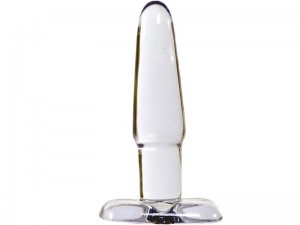 Clear Flawless Beginners Butt Plug
The Clear Flawless Beginners Butt Plug is made from a soft jelly-like material this little butt plug has a fantastic, firm-squishy texture and is at just 6 inches tall it is one of the smallest butt plugs in the range.
Top tip: Apply a generous dollop of lube to the butt plug and it will slip in with minimal effort and maximum comfort.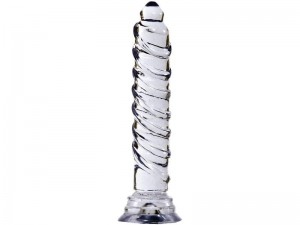 Clear Calcite Ribbed Butt Plug
Add a twist to your anal play with the clear ribbed butt plug. This plug is made of a firm yet pliable spiralled twist pattern to invoke incredible penetrative sensations unlike any other shaped butt plug; it feels incredible when rotated during penetration.
Unlike most butt plugs the ribbed shaft is all one size so removal is painless and easy. This butt plug measures 4 inches of insertable length and 4.4 inches of girth provide a comfortable snug fit that isn't too oppressive during wear.
Top tip: Try thrusting during sex is great too as the tip rubs your p-spot perfectly.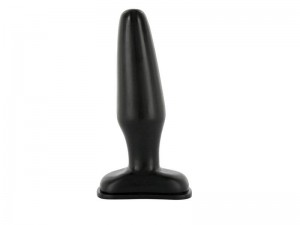 Black Power Ass Master Medium Butt Plug
This super extra smooth and orgasmic Ass Master Butt Plug is a great medium sized butt plug, guaranteed to hit the right spot and provide you with intense anal fulfillment.
Made from high grade latex, this smooth black butt plug has a nicely tapered end to allow for it to be easily inserted into you. Apply a little water-based lube to make this even easier and enjoyable. The gentle flared shape of the butt pug allows it to sit comfortably inside you, which allows you to enjoy the most amazing internal massage.
View the full butt plug range available at esmale.
Team esmale
Essentially for men