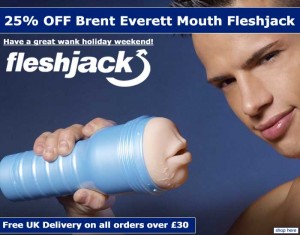 The Fleshjack remains to be the best male masturbator in the world and shows no signs of fading soon! This range of male sex toys has received rave reviews since their release. With more than two million sold worldwide it seems men everywhere can't get enough.
Fleshjack just keeps getting bigger and better with as more and more gay porn stars are added to the Fleshjack boys club. Available in a vast array of styles and textures these innovative male masturbators and now, for a limited time, you can enjoy the Fleshjack experience for even less at esmale.
For a limited time only, save 25% OFF the RRP on Brent Everett Fleshjack Mouth and up to 10% OFF other top models from the same range.
Hot gay porn star Brent Everett puckered up and lent his lips to Fleshjack. This male masturbator is moulded directly from this naughty rascal just so you can experience his perfectly cast features for yourself.
The Brent Everett mouth features the swallow texture, which was specially designed to simulate the sensation of getting a blowjob as closely as possible. Featuring a gently widening canal with slopes and shapes that so closely emulate the real thing. Trust me you'll feel like you're in your own porn film with one of the industry's hottest stars.
This is a must-have for all fans of Brent Everett – but be quick, stock is limited and this offer will not last forever! View the full Fleshjack range at esmale.
Team esmale
Essentially for men