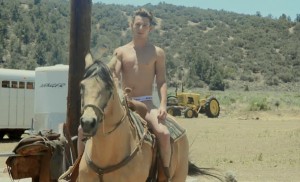 What could we possibly say about Brent Corrigan that hasn't already been said? This hottie has pretty much done everything a gay porner could do and his popularity has never declined. Ever since he burst on to the scene, Brent established himself as the twink everyone wanted to shag, and thanks to Fleshjack now they can we the Brent Corrigan range of gay toys molded directly from this hot pornstar himself.
Now our favourite gay pornstar  is looking hotter than ever in the hot new Christian Andrew underwear video, we're guessing Brent's exposure is about to hit an all time high!
Brent rides a horse in Jockstrap, and of course there are plenty of shots of his hot, tight white bottom – But i'm sure you're not reading this anymore and actually hit replay on the video below.