Never 'man-handled' a fake ass and or any male sex toys before? You don't know what you're missing. I've included a butt plug and a gay dildo in my anal play for a long, but talking to my male friends about the topic of sex toys it became apparent that all excluding one hasn't – and they play for #teamtop.
And doing writing for this blog site it seems to be the general assumption that #teambottom will bring the hardware and are more keen to explore the pleasures of anal sex.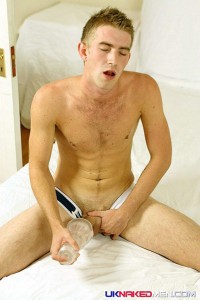 Since the introduction of Fleshjack and its explosion all over mainstream media male sex toys have achieved certain glamour. Now we see them reviewed in the pages of prestigious men's magazines and more openly discussed. Hail! Long gone are the days of slapstick blow-up dolls and novelty penis pumps and we don't label the men who own such devices as desperate and sexually inadequate (at this point I would like to say that these guys are actually more skilled and tentative underneath the sheets.
Check out the great range of male masturbators at esmale. They come in many guises from hollow textured tubes to body-cast butts and mouths. Fleshjack is specially designed to stimulate the penis to the point of orgasm, a more effective and stimulating than experience compared to what your right-hand can provide.
A Fleshjack is filled with widely varying textures including lumps, bumps, waves, ridges, nodules and tendrils that are designed to provide intensely pleasurable sensations when stroked over the penis.
Check out the great range of male sex toys available at esmale.
Team esmale
Essentiallymale