I have had a Fleshjack sandwich the other day and it was rather delicious!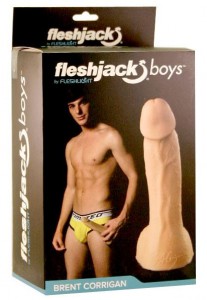 As a complete wanking obsessive I have many tools that help me get great orgasms. Some of them are for quick satisfaction and others I take my time with to try and increase the pleasure. It is all about the timing, when having fun with yourself take your time. What is the hurry?? Relax, take out your gay sex toys and have a real good play!
As I was being sucked by the Brent Fleshjack I decided I also need some anal loving. I gave Brent a break and prepared myself for Kevin, I purchased his gay dildo a while ago but had not used it yet. As gay dildo s go it is not the biggest but for me it is the perfect size. We can't all be endless holes LOL (only jealous)!
Because there is no huge suction cup on Kevin, I had to work it hard with my hands, I really got into it and then slid the Brent Fleshjack back on my cock and had the most amazing orgasm.
I must say it felt like hard work "pleasuring" both ends at the same time and I am sure there are easier ways but in the end it was totally worth it. It was a great work out as well, who needs a gym if you have a big gay sex toys collection to work you out?
LOL
With love
If you have any experiences like this that you would like to share please connect with esmale.com and it will get sorted.
Team esmale
Team esmale essentially for men!