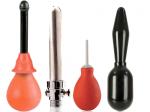 Anal sex toys are specially designed products for anal penetration and prostate play. At esmale you'll find that most of our toys are often tapered or graduated and applying a lube will allow for easy insertion, before becoming wider or swelling in size to stimulate the nerve endings in your bum.
Don't forget to anal douche.
Without the correct tools anal sex can be a messy experience. However using an anal douche will keep you and your play safe, clean and hygienic.
First up, we recommend you use the toilet at least half an hour before any sort of anal activities. In general, faeces is not stored in the lower area of the anus where a penis or anal dildo can reach unless you need to go to the bathroom, so it should be fairly clean anyway.
However, better safe than sorry you may want to use an anal douche or enema to make sure you're super clean! A douche gently deposits water into the rectal passage, removing any compacted faeces as gravity does its thing and draws the water back out of you, make sure you're sitting over a toilet at this point!
Finally, make sure you use condoms on your anal sex toys. This will help prevent prevent bacterial build up and make it easy to clean afterwards. It also keeps your anal dildo (or your partner's penis) free from poop.
View the full anal douche range at esmale.
Team esmale
Team esmale essentially for men!