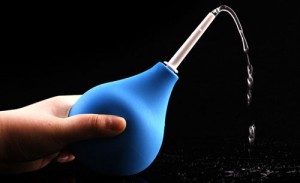 Recently we have spent a lot of time writing about the best way to approach anal sex. Let's face it; the first time can be daunting!
The internet is rife with just as many horror stories as it is with pictures of guys really getting off on it. If you have been encouraged to try it we have a few helpful tips that are guaranteed to help and ensure your anal sex story is one to remember for all the right reasons.
1. Get yourself a douche
This is an essential toy that should be at arms length away at all times when getting ready for anal sex or using your favourite anal toys.
An anal douche is usually made up of 2 parts, a pump that you fill with water, and a tapered nozzle that you insert into the anus to direct the water into the anus.
Injecting water into the anus flushes out any faeces leaving you feeling clean and confident that there won't be any accidents during or after sex.
We recommend waiting an hour or so to ensure that all excess fluids from the douching progress have left the building.

2. Lube! And plenty of it…
Lube has many uses, from masturbation to massaging (Yes, Liquid Silk is great for sensual massage).
A good lube is designed to help aid sex, apply a generous amount to you, your partner or toy for a slippery ride. It makes entry that much more easier and penetration a lot more comfortable.
We recommend a water based lube such as the best-selling Liquid Silk lube. Available in multi-packs this lube has a light, natural feel, which is perfect for anal play, and is male sex toys and condom compatible. It's easy to wash off and won't stain your bed sheets what more could you ask for.
3. Male Sex Toy Cleaner
Keep your sex toys in tick-tock condition and use a male sex toy cleaner after every use. Clean your toys as usual and then apply an anti-bacterial Toy Cleaner. The cleaner features a unique cleaning agent that gently cleans and disinfects surface bacteria yet is mild enough to use before and after each and every play session. It's so easy to use, simply spray on let stand for a couple of minutes and rinse off.
Check out the full anal douche range available at esmale.
Team esmale
Essentially for men