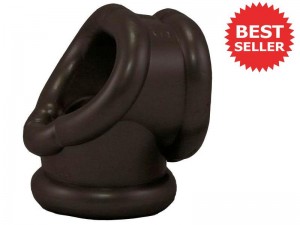 If only the best will do for you and your crown jewels look no further than the OXBALLS range of gay sex toys.
Designed to give you the best sex sessions and the hardest erections their moto is 'Sick Toys For Twisted Boys' and they're not wrong.
Wearing an OXBALLS cock ring reduces the blood flow out of the penis, the ring sits tight enough across the shaft of the penis constricting the veins, giving you a much bigger harder erection.
Men who suffer from erection difficulties or dysfunction find wearing a cock ring is a safer alternative to herbal stimulants. Some guys just like the feeling of extra weight around their penis, the OXBALLS range is available in a range of imaginative shapes and sizes that your partner is going to notice.
Wearing a cock ring can also help with premature ejaculation this is especially true of the cock and ball rings. This range of cock rings feature a second recond that fits around the testicles so that at the point of orgasm your testicles are restricted, as the penis takes in more blood, it makes for a longer more intense orgasm.
Made from a specially formulated silicone makes OXBALLS super soft and stretchy, it stays in place when not erect and is easy to remove when hard.
Check out the full range of OXBALLS gay sex toys at esmale.
Team esmale
essentially for men