Great range of Oxballs gay sex toys, cock rings and fetish gear available at esmale.com
If you're looking to explore the world of Oxballs cock ring or fetish gear the guys at esmale have 'ya back. Here's a basic guide to all things kinky from those naughty guys at Oxballs. Don't worry – nothing here's too "crazy," but you'll definitely have some hot fun with any or all of these. Below is just a sampling of what's available;
Nipple Play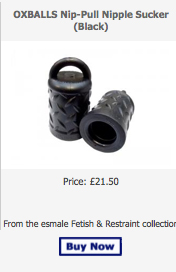 If the thought of bigger, more sensitive nipples gives you thrills, or your just bored of the same old snake-bite suckers, take a look at the Oxballs nipple enhancers. You simply squeeze and apply, the suction keeps the blood flowing for increased sensitivity, which means more intense nipple play. Take a look at the full range of Oxballs nipple gear at esmale.
The texture the nipple grips mean that you can get a good enough grip even when your fingers are covered in lube or load, so you or your guy can tug them, hang weights off them or even string them up (perfect for you hardcore bondage boys).
OXBALLS Trough Cock/Ball Separator Teardrop Cock Ring (Black)
OXBALLS Trough Cock/Ball Separator Teardrop Cock Ring is designed to fit snugly around the cock and balls with a contoured tongue that gently massages the perineum. The teardrop is like a cock ring with a big bonus. The squeeze creates an especially intense hard-on and when the "tongue" hits your perineum, you're feeling pleasure all-over.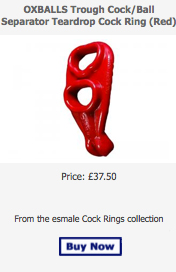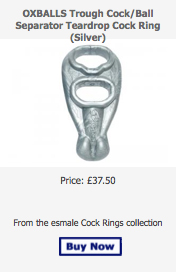 The Oxballs teardrop cock ring is made of pliable silicone, the teardrop is not just a cock ring, but has a little curved tongue-like dip on one end. Simply lube up the edges of the ring and then ever so gently squeeze your testicles through (I strongly advise you do this one by one and carefully) and then push your penis through till it fits comfortably in place.
For the sake of all our blog readers I decided it would be best to take this cock ring for a test drive (what I do for you guys). Almost immediately I saw a difference, my penis looked like it was ready for some rough action. I immediately started to jerk off and the plastic did do its job hitting my perineum (the space between your cock and balls) and to top it off I had a nice above average cum shot.
I tried it out with my latest scruff hook-up, he had no objections and I promptly reinserted my penis. The teardrop cock ring not only made the sex more intense, but the tongue was really hitting me hard, repeatedly and in the right place, massaging my perineum with every thrust. I took longer to cum but when it happened it was super intense.
Oxballs Teardrop Cock Ring verdict: Great for jacking but extra, extra special when worn during sex.
But don't just take my word for it, check out the full range of Oxballs Ball Stretchers.
If you have any ball stretching questions, please email us at info@esmale.com and we will be ready to help you with any queries you might have!
Team esmale, essentially for men!