Cock rings are a great way to help build stamina in the bedroom and maintaining an bigger, harder erection. Shopping the range at esmale, you will soon see that the range is vast and available in a vast range of shapes, sizes and textures. Wearing a penis ring looks super hot and they look and feel super hot providing unbelievable sensations for you and your man! The ring works by restricting blood flow from the penis and in turn your penis becomes enlarged, harder and the glands feel more sensitive to the touch.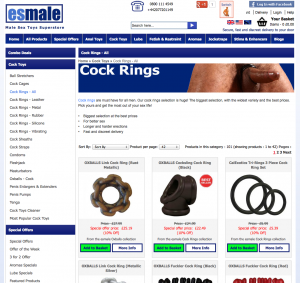 Putting one on is easy, apply some lube to the shaft of your penis and the inside of the ring and slide the cock ring down over your erect penis to the base where it will sit firmly, trapping the blood in and giving an ultra sensitive and engorged erection that can be maintained until the ring is removed.
See the full range of cock rings available at esmale.
Team esmale
Essentially for men