We get a lot of calls from customers looking for guys wanting a bigger, stronger and harder penis. I always suggest a cock ring over pills and potions.
At esmale we stock a huge variety of cock rings including metal and extra large cock rings to vibrating and adjustable. Cock rings prevent blood from flowing back down the penis, ultimately, making your erection bigger and last longer so you can go for longer and harder.
The OXBALLS range of cock rings is a bestselling brand here at esmale. What makes this range so unique is the stimulators attached in the shape of little spikes or nobbles that tickle and tease your taint for extra sensations. OXBALLS cock rings provide a vice-like grip that looks really comfortable and looks really HOT!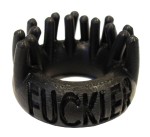 The Fuckler is a thick silicone cock ring with stimulating "fingers" that fondle your balls. This cock ring adds a whole new dimension to your sex life.
The OXBALLS range is made of a super stretchy rubber material, available in a range of different shapes. Check out the full OXBALLS range at esmale
Check out the full range of cock rings available at esmale.com
Team esmale
Essentially for men