Hey it's nearly Friday and our 20% OFF Everything ends tomorrow! Don't miss out, avoid disappointment and order today.
There is 20% OFF all butt plugs at esmale, which is great news for fans of anal sex toys. We've got a brilliant range of butt plugs you will find something for everyone from small butt plugs for beginners and those looking to explore the pleasures of anal play to huge inflatable butt plugs for those anal veterans looking for something huge that will fill you up to the brim.
Looking for a challenge? Check out the round butt plug from Doc Johnson, this plug features a slender neck and bulbous head, guaranteed to give you that 'filled-up' feeling. The big bulbous round head is designed to satisfy even the most select of anal connoisseurs.
If you're looking for an entry into the world of anal play and prostate massage, the Basix P-Spot Butt Plug 5 inch butt plug is the perfect starting place. The guys at Pipedream have put a new twist on a classic butt plug. The curved shaft is angled to reach inside and stimulate the prostate and guaranteed to hit the right spot every time.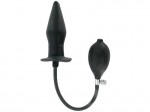 For those of you looking for something bigger or crave that filled up feeling we recommend an inflatable butt plug. This is the perfect choice for guys who like the filled-up feeling of a really huge anal toy but find insertion difficult, this range can be pumped up once it's inserted.
Top tip: Check and double check the size measurements in the product descriptions – some really are massive (like the Mighty Joe) it's better to get it right first time and avoid disappointment. If you have got any questions then get in contact with us. We're always happy to help.
Check out the full range of butt plugs available at esmale.com
Team esmale
Essentially for men