At esmale we receive reviews from you guys every day! This morning I sat down with a coffee and was greeted by this magnificent review for a recent anal beads purchase.
The reviewer has asked that we keep his identity anonymous but has given us permission to share his experience with his recent purchase.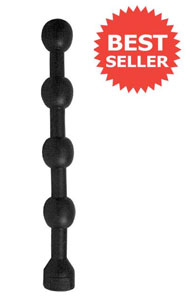 The review was written about the best selling Domestic Partner Butt Boy Anal Beads. We felt this review was a fantastic, funny, unique account of this anal toy and in doing so confirmed the beads reputation as the "Best fun you can have with your bum".
The easy-grip Domestic Partner Butt Boy Anal Beads features 4 equal size spheres along a firm rubber shaft. Made of phthalate-free, durable pure silicone, it's non-porous, hygienic, and top-rack dishwasher safe. Just be sure to use a water-based lube. Measures 13 inches in length, and each bead measures two inches. Check out the full range of anal toys available at esmale.
Review
"Once you pop, you won't be able to stop!

Not for the feint hearted, I can attest to the fact that the Domestic Partner Butt Boy Anal Beads nearly made my eyes pop out after inserting just two of the four beads. I had chills running up and down my erect penis. This is definitely one of the big anal toys from the esmale range.

The rubber anal tool, is made of four "smooth" anal beeds (sic) all of equal size approximately thirteen inches long, including the rubber grip at the bottom I found extremely useful for yanking out of my ass at the point of no return!

As a professional experimental proctologist (not really), I'd recommend the Domestic Partner Butt Boy Anal Beads, creates stimulating and unparalleled pleasure. The unique one-piece design makes Domestic Partner Balls easy to keep clean and sanitary while the sturdy base offers security.

Remember what goes in must come out… that is where the fun is!"
Team esmale
essentially for men