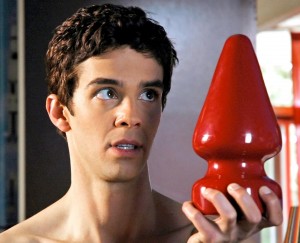 Remember the huge butt plug scene from Another Gay Movie? Michael Carbonaro's face is a picture. I think it's fair to say that the butt plug is the anal toy we are most familiar with. Available in a range of shapes and sizes they're fairly distinctive with a tapered tip for easy entry and a flared base for control.
Much to some guys amazement the anus is filled up with sensitive nerve endings and when penetrated can lead to immense satisfaction and full body orgasms. The prostate aka male g-spot is located up the bum. The prostate is an extremely sensitive gland that feels especially sexy when probed and it's located about two to three inches up on the anterior (front) wall of the anus.
You may have heard about prostate play from films like Another gay Movie, and it's true that you can ejaculate just from stimulating the prostate.
In fact I am talking from experience when I say that massaging the prostate leads to a more intense orgasm than just masturbating.
Wearing a gay butt plug will ensure sure you're hitting the right spot. The added prostate stimulation also makes everything from enjoying masturbation to receiving oral sex feel even better. esmale is your one stop gay sex shop for everything including the best butt plug range.
Top tip: When you're about to reach orgasm the muscles around the anus start to contract and will improve the strength and duration of your climax.
View the full butt plug range at esmale.
Team esmale
Essentially Male