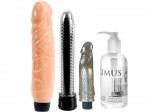 Anal vibrators have been designed specifically with anal stimulation and penetration in mind. Take a look at the great range of anal vibrators available at esmale and experience wave after wave of powerful vibrations and a deep, satisfying feeling of penetration, providing plenty of fun for your bum.
Specially designed to give you incredibly enhanced orgasms. Available in a range of different shapes and sizes we have something for everyone most have a tapered head for easy insertion and our range also includes vibrating anal beads that feel incredible.
Use on your own or with a partner. Anal Vibrators can take anal play to a whole new level and push your orgasm to the extreme.
Top tip: Anal vibrators are great during foreplay especially anal sex as it will help you relax and so you're ready for the real thing.
We recommend using a thick lube such as Maximus. This waterbased lube is thicker and compatible with all toys.
Check out the full range of anal vibrators available at esmale.com
Team esmale
Essentially for men