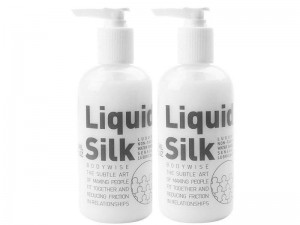 Here at esmale we stock a huge range of lubes. From water based and silicone to masturbation cream. If you're getting ready to bottom you will benefit from a goof quality anal lube.
An anal lube such as Liquid Silk or Maximus anal lube maintains a slick consistency for a lot longer than waterbased lubes. Plus it's condom compatible and safe to use with all your sex toys.
I use it with my silicone dildos and butt plugs (silicone lube will break down the silicone toys and should not be used) and I usually blow my load before it dries up. It's simple to apply and quick spritz or lick will reinvigorate it.
Lube is packed full of fancy ingredients including vitamins and aloe that is good for your skin so your ass actually feels better after I use it.
As an added bonus the bottle is great because you can grab it and pump it wherever you want it. This may sound slightly strange but struggling with the lid of a bottle during sex can really spoil the moment.
Here's a top tip get yourself a lube applicator. This plastic syringe will put lube exactly where you want it without the fuss. This really is a first class lube delivery service.
Check out the full range of anal lube available at esmale.com.
Team esmale
Essentially for men