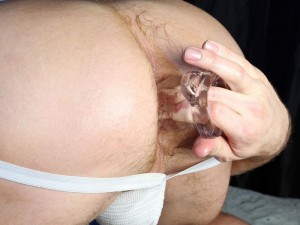 There are a few hollow butt plugs on the gay sex toys market, none as hot as the Perfect Fit Ass Tunnel.
This top quality butt plug tried and tested by the boys at esmale this plug fits your ass like it was custom made.
This top quality intense butt plug is made from Perfect Fit Blend of silicone and TPR that is firm yet stretchy. It quickly warms to body temperature and is firm enough to keep you puckered up and ready for action so you can go on, and on and on.
The lucky guy that gets to shag you senseless wearing this is in for a hot ride! A smooth inner chamber features ripples along the shaft. Watch as he squeals in pleasure with each thrust as the top of his knob rubs the lips at the opening of the butt plug.
The ass tunnel is available in three sizes, medium, large and for you nasty pigs it's also available in an extra large, this plug will allow you to take a huge fat, thick cock or a lot of fingers. Once you take it out your hole will return back to the tight pucker it is.
This is definitely one of the most versatile sex toys available at esmale. The ass tunnel is great for piss fetishist's as you can literally turn your ass in to a urinal, or why not pump your ass full of Cum Lube and become a walking glory hole – HOT!
Check out the Perfect Fit Ass Tunnel at esmale today!
Team esmale
Essentially for men