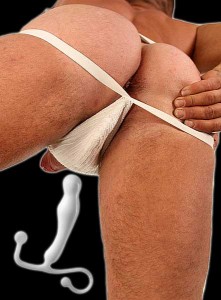 Long gone are the days when it was enough to simply bang your man and spunk all over his cheeks. If like us you're looking for always on the look out for a bigger and more powerful orgasm let us introduce you to the Aneros Prostate Massager.
Available in a range of sizes there's something for everyone, from beginners to experts. The Aneros range has been building up a huge fan base, giving us guys a whole new spin to the male orgasm.
If you're a first-timer, read our prostate massage guide and remember to stock up on plenty of lubricant – and for a first-hand account of what an Aneros toy can do for you, read the following review from Orgasm Army:
I'm sure if you have ever heard someone talking about his experience with Aneros – it's all good. At first glance you might think this doesn't look much like a sex toy.
Don't just take our word for it here's what EsseXXX from, yes, you guessed it right Essex had to say.
"A mate bought one and has not stopped banging on about how good it is. I thought I would give it a go and well, on my first real time using it, I tried lying in a few different positions, and clenched & relaxed my anus as instructed. After about 20 minutes I had an orgasm but the best thing was I didn't ejaculate. It lasted longer than my "average" orgasm, and felt amazing and strange at the same time. I recommend you just keep going with it, it's definitely worth the wait. ;)"
Check out the full Aneros range available at esmale.com
Team esmale
Essentially for men