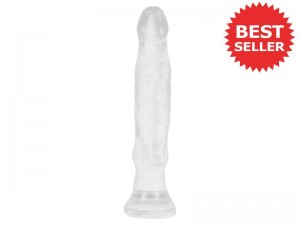 When I am looking for straight-forward satisfaction, I always reach for my dildo (Yes, it's always at arms length). In fact I have a pretty big selection that includes a number of different colours shapes and sizes. The satisfaction I get from my anal dildo is unlike any other.
For those of you looking to explore the pleasures of anal play for the first time or for those looking for something a little BIGGER – we are sure you'll find it at esmale.com
For those of you looking for something small and slender to start with, we recommend the Clear Starter Anal Dildo. This small dildo is just 6 inches in length with an insertable length of 4.75 (the size of an index finger) It delivers great sensations. Apply plenty of anal lube and this realistically shaped anal dildo will slide in with relative ease.
For those of you looking for something bigger, we recommend the BASIX range of anal dildos. They're specifically designed for anal use, available in a range of sizes from 5 inches up to a whopping 12 inches this range is specially designed to make them more stimulating, with a tapered tip for easy entry and targeting the prostate gland. We love the suction cup base for safety and hands-free fun – definitely gets the thumbs up from us.
Check out the full range of anal dildos available at esmale.com
Team esmale
Essentially for men