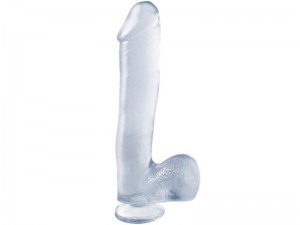 At esmale we stock a huge selection of anal dildos, some small, some big, some feature a suction cup and some are designed to look and feel just like the real thing!
Whatever you are looking for we have something for everyone. For those of you looking for a challenge check out the dildos that measure in at a whopping 10 inches and bigger!
The Basix range of anal dildos are made from a clear jelly like material and molded to on an erect penis with balls too. Trust me, you won't be able to resist the challenge.
The pictures on the website really don't do a 10 inch dildo any justice! It's only when it was delivered and you're holding this bad boy do you wish you had a whopper of your own. This massive dong is not slight and is incredibly dense from the big head right down the shaft to the testicles. It features large, super-pronounced veins that run down the shaft for more stimulation.
This anal dildo is brutal to the say the least but for those of you looking for something that will fill you to the brim and stretch your anus from top to bottom, this is the dildo for you and will provide you with an amazing anal orgasm.
If you think you're up for the challenge, check out the full range of anal dildos available at esmale.
Team esmale
essentially for men