Since Oxballs arrived at esmale HQ nearly a year ago the range has continued to grow into a bestselling brand. From cock rings to anal toys the range just keeps getting bigger and better.
Keep up to date with the all the latest news from Oxballs here at esmale.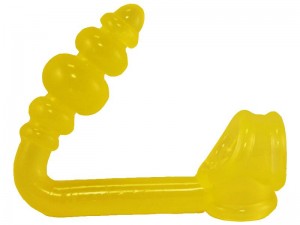 The Oxballs Spark Plug is one of the toys that helped make Oxballs the big brand it is today! This toy is made from the same-patented Tech TPR as the bestselling cock sling.
Just looking at it the Spark Plug Ass Lock looks less like a gay sex toy and more like something that has fallen from a UFO. So today we have taken it upon ourselves to describe the ass plug.
It's essentially a butt plug, cock ring and ball stretcher in one. The butt plug is soft to touch and made up of five small anal beads or balls. Each ring on the plug stretches away from the next so wearing it during masturbation or sex and this toy will pull, twist and turn inside your anus making for great sensations.
The cock sling is a cock ring and ball stretcher in one, the cock sling will grip your penis and keep you hard whilst the other ring is designed to grip your testicles prolonging your orgasm so you can go on for longer.
If you struggle to hold on to or achieve a rock hard erection, the Oxballs Cock Sling is just for you. It grips the base of your penis making your erection feel harder and longer than normal. Especially considering how this small strong cock ring has a built in ball stretcher that keeps your testicles from rising!
Check out the full range of Oxballs available at esmale.
Team esmale
Essentially for men