Erection problems affect men of all ages and for all sorts of different reasons but it's really no reason to panic we stock a range of cock rings designed to give you that rock hard erection so you can last longer in the sack.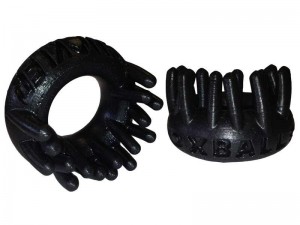 The Oxballs 'Fuckler' is the latest addition to our cock rings range! The underside of the cock ring features twenty finger shaped nubs that support and fondle your balls and feels great during sex for both you and your partner.
Apply lube to the inside of the ring and stretch it over your cock so your balls are sitting on the nubs or flip it over and wear with the nubs around the top of your erection during sex and stimulate your partner's anus and watch the lucky bottom squeal with joy!
Cock rings are a great alternative pills and sprays the 'Fuckler' gives you that massive hard-on and stimulates your testicles at the same time. During intercourse you will notice more stimulation and pleasure.
Check out the full range of cock rings at esmale.
Team esmale
Essentially for men