Looking for an extra little something to get your motor running? The new 'Links' cock ring from bestselling brand Oxballs is made of hygienically superior TPR, a sturdy-yet-stretchy material designed to give your cock the extra support it needs. Mechanic, rubber and metal fetishists will rejoice!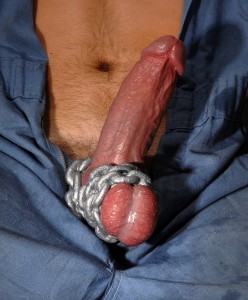 Despite the name, male sex toys generally are quite serious in design and advertising. But the 'Links' is quite fun and a must for fetishists. Made of patented silicone this super stretchy cock ring, features impressive chain to keep you rock hard ready for serious pounding!
Not coming from a fetish background and not all that interested in metal, I tried the toy out for a trial and as a cock ring it works. It's super stretchy and easy to put on and remove it sits snug around my cock and did the job.
The Link cock ring is molded and painted to look just like a rusty old real chain with all the dings, dents, and weld marks. Made of super soft stretchy pure platinum silicone this cock ring is designed to stretch and flex with you. It quickly warms to body temperature and won't pinch. Let's say you would definitely draw attention to yourself in any event.
They say a workman is only as good as his tools, so if you're looking for a new set of toys to liven things up in the bedroom, look no further than the Oxballs Link cock ring.
Check out the full range of Oxballs at esmale.
Team esmale
Essentially for men
Team esmale
essentially for men