Are you sitting comfortably? Last night I took the new Oxballs range for a test drive starting with the pig hole and wanted to share my findings with you. I was really excited after reading about the Pig Hole so it wasn't long before I puckered up, ready to insert the Oxballs pig hole.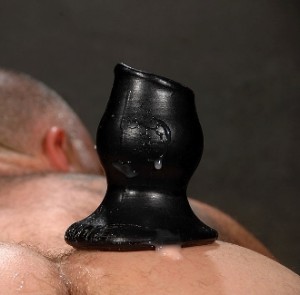 Insertion was easy, I applied a generous amount of lube and it slipped right in. Whilst the plug was resting inside I started grinding against it for extra sensations! Alternatively, try moving the plug in and out of you to experience a thrilling thrust.
The pig hole is a hollow butt plug and sits comfortably inside your anus. Great for anal stretching the pig hole is firm and strong enough to open your anus and achieve deep penetration. Trust me this thing is not going anywhere!
I was robust in my testing and tried the following three positions:
1) Bent over on all fours (aka doggy).
2) On your back with a cushion under your bottom and legs spread.
3) Squatting over the butt plug on your feet or knees.
I started to penetrate the butt plug with my fingers moving on to my favourite dildo the tip of the dildo penetrates deep inside your anus and it feels absolutely fantastic.
Made from Oxballs patented skin-flex platinum silicone it reaches body temperature quickly and felt just like skin. The best feeling comes with a partner, each thrust stretches your anus whilst he reaps the benefits of a ribbed interior for extra sensation.
p.s. you can even flip it around and use it as a stroker!
The pig hole is part of the Oxballs range available at esmale.
Team esmale
Essentially for men