First up! I just want to make you all aware that Oxballs Ball Stretchers are available in in multiple sizes and designed for maximum effect, so whether you're an amateur ball stretcher or a heavy weight stretcher at esmale you'll find the ball stretcher for you. You can view the full range of Oxballs ball stretchers available at www.esmale.com.
New Oxballs ball stretchers quickly became a bestseller!
If like me you love the site of low hanging balls and are into stretching but don't like having a big, bulky, heavy weight between your legs then I (absolutely) recommend the new super stretchy silicone ball stretchers designed by Oxballs!
These ball stretchers are comfortable and can be worn anywhere, at work, cleaning the house, or even out for dinner with your guy. Wherever you decide to wear yours, I do have one word of advice please be careful not to sit on your balls (unless of course, you're into that).
This ball stretcher doubles up as a cock ring!
The Oxballs Stacker ball stretcher is only an inch tall but tight enough to grip your sack so no matter how big your testicles are this cog shaped ball stretcher guarantees a good grip no matter how greasy or lubed up your hands or sack is. If you like a tighter grip cock ring, then the Oxballs Stacker Ball stretcher is thick enough and offers plenty of stretch to fit over your penis and testicles too.
The Oxballs Slug Ball Stretcher includes 2 Ball Stretchers – Perfect for sharing!
The Oxballs Slug-2 reversible ball stretcher is the perfect ball stretcher for guys who enjoy ball stretching but find leather or metal too restrictive. This ball stretcher measures 2-3/4 inches. Oxballs Slug-2 Reversible Ball Stretcher includes two super stretchy ball stretchers made from specially formulated thermo plastic rubber and they are both reversible.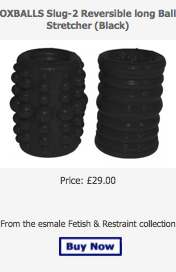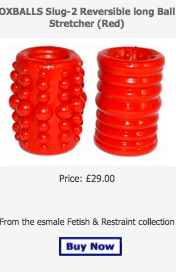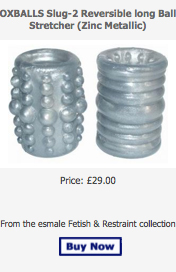 The nubbed-textured side provides extra squeeze or turn it inside out for a unique fetish appearance! You'll find one ball stretcher is firmer than the other. The firm one is for serious ball stretching (trainer) and the other is for beginners or playtime (player). Choose from soft or firm, this range of ball stretchers is great for sharing.
But don't just take my word for it, check out the full range of Oxballs Ball Stretching.
If you have any ball stretching questions, please email us at info@esmale.com and we will be ready to help you with any queries you might have!
Team esmale, essentially for men!