If you find the majority of Ball Stretchers too tight, the Oxballs Slug ball stretcher will rock your world. You even get two, one for you and your man, well why should he get all the fun!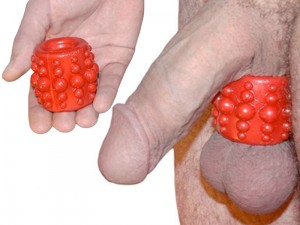 If like me and you're into ball stretching but don't like having a big, bulky, heavy metal weight between your legs then I recommend you check out the bestselling alternative from our friends at Oxballs.
The Oxballs Slug is made from durable TPR (Thermo Plastic Rubber) the same super stretchy material as the Oxballs Cocksling and is safe to use with water based lube and silicone lubricants.
esmale Top Tip:
"If you're prone to premature ejaculation, whip this ball stretcher over your testicles as soon as you're erect, as it will help to keep you going that little bit longer."
What I love most about the Slug is that it is reversible. One side features a nubbed texture that provides extra squeeze, designed especially for ball stretching and fetish enthusiasts or turn it inside out for a unique fetish appearance perfect for beginners or playtime (player). Choose from soft or firm, you get two ball stretchers (remember sharing is caring).
The Oxballs ball stretcher are comfortable and we've heard from guys who wear theirs at the office, around the house, one guy was even on a date.
A quick word of advice! When wearing your Oxballs ball stretcher don't sit on your balls. Stretching them two or more inches can make the aforementioned a real and quite painful possibility.
A ball stretcher will not only help with the appearance of balls, they're great to use even if you don't require any assistance. (They feel great and really rev up the motor, if you get our drift.) The gentle tug on your balls when masturbating can lead to all over body orgasms.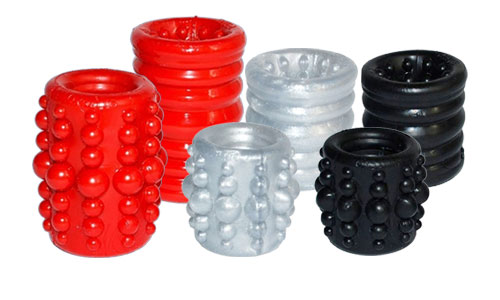 Available in black, red, and metallic, there's a Oxballs Slug Ball Stretcher to suit most types of guys. The extra supple, flexible material means the ball stretcher fits snugly and gently around your testicles without irritating your skin.
Oxballs Slug Ball Stretcher offer ends 08/03/12.
Team esmale
essentially for men