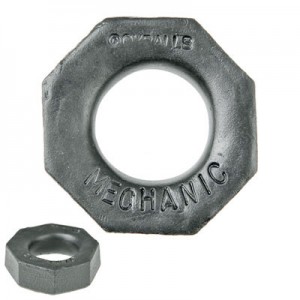 Whoever said a workman is only as good as his tools' wasn't wrong! If you're looking for a new set of toys to liven things up in the sack, it's here and comes in the shape of OXBALLS.
Here at esmale we're always on the look out for the latest offerings from the world of gay sex toys. So if like us you love cock rings you won't want to miss the super hot range of OXBALLS. Available in a huge range of shapes, sizes an colours they are a great way to add more oomph to your package.
For those of you who are not familiar with cock rings this range is a great place to start. Made from a super stretchy silicone they are designed to fit everyone and are easy to remove if the situation arises.
The OXBALLS Mechanic Cock Ring is a stretchy grey/metal toned silicone cock rings. They're shaped like hex nuts. These are not quite as cheap as some the other silicone cock rings out on the market, but they definitely look and feel more durable than most.
Overall, these are a pretty plain pair of cock rings. They are pretty stretchy, so this makes for a good set for any beginner. This is a versatile ring that can also be used as a ball stretcher.
If you're a fan of the OXBALLS line of toys and how they look, I definitely recommend giving these a try!
Team esmale
Essentially for men