A hand shandy, tossing off, Spanking the monkey or quiet simply masturbation keeps us guys out of trouble and entertained. Now, bestselling brand Fleshjack has taken masturbation to a whole new level.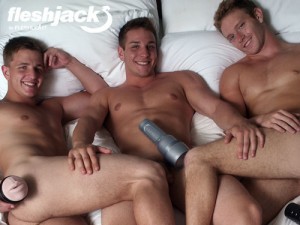 Having tried it for myself I can tell you it's like nothing I've ever tried before. I strongly recommend everyone give it ago, like me, you'll soon realise why this is the number 1 selling male sex toy in the world.
Choose from a huge range of sleeves made from a unique patented material that feels just like skin; each sleeve features a different texture that delivers intense orgasms.
Your Fleshjack is at your mercy, it never get's tired and you can use it whenever and however you like. Get ready for 100% sexual gratification.
Made from Real Feel Super Skin the sleeve is a specially formulated patented material that looks and feels just like the real thing. The soft touch and texture makes for the best intercourse simulation ever, it feels just like anal sex.
The Endurance Jack is specially designed to help improve stamina & performance in the sack. Practise new techniques and see how long you can go for before you blow your load. The Stamina Training unit insert was created for maximum sensation. So hold on tight and get ready for the ride of your life.
Jokes aside this is the safest sex you will ever have! So whether you are still looking for prince charming or just looking for a safe partner this is the most reliable and safest alternative on the market.
After use, simply remove the sleeve and wash with warm water soapy water and leave to dry, as long as you look after your masturbator it will last you a lifetime. If only it were that easy with real sexual partners?
See our full range of Fleshjack masturbators for men and take your new sex life to the next level.
Team esmale
essentially for men