Anal dildos are available in a vast range of colours and sizes, some are small and some are brutal but a clear dildo is both handsome and sturdy. Made from specially formulated PVC this range of dildos look and feel just like jelly!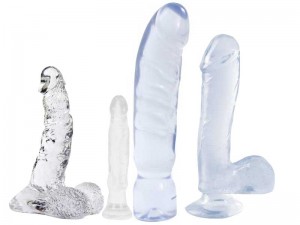 The clear dildo range features a transparent, ribbed shaft; simply lube it up for a super slick ride. Choose a length and girth to suite you this clear dildo range has a set of realistic balls to bounce and grind up against.
Lube is an essential item when playing with anal toys! Applying lube to your dildo and anus will make penetration that bit more enjoyable! Remember some male sex toys are not compatible with silicone-based lubes. We recommend using an anal lube such as Liquid Silk or Maximus anal lube.
Spread the lubricant generously all over your clear dildo and you'll find that it will be easier to use and will make your play more enjoyable.
Top tip: Place your dildo in hot water (not boiling) or place it in the fridge and you enjoy playing with temperature.
Grab his balls!
The clear dildo range has been molded directly from the real thing. Some even feature balls and a suction cup for hands-free fun! Be imaginative and go deep, grinding against the balls you can stimulate yourself externally whilst the dildo penetrates and stimulates the perineum!
Although some of the larger dildos look intimidating and somewhat painful, they can actually be really enjoyable if you angle them right. This will help with insertion and is guaranteed to hit all those orgasmic sweet spots!
Keep it clean!
Hygiene is of utmost importance, especially when playing with your ass. Some guys prefer to place a condom on the dildo to make cleaning much easier. Using a condom prevents the build up of bacteria and other nasty bits. We recommend investing in a male sex toys cleaner to ensure your dildo is left in tip-top condition.
View View the full anal dildo range at esmale.
Team esmale
essentially for men