The jockstrap range at esmale just got BIGGER! We have introduced XLarge size to our BIKE Jockstrap range.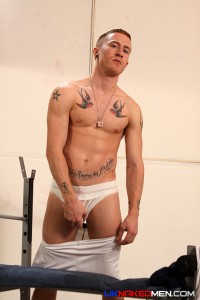 The BIKE jockstrap is hugely popular here at esmale and has sold more than 300 million of them worldwide. It's a popular choice for both athletes and fetish enthusiasts alike, but why?
Wearing a jockstrap will give the appearance of a fuller package while the support straps frame your ass. Made from cotton the Bike jockstrap range features comfortable padding designed to lift your package up for the ultimate bulge.
Bike has been making jockstraps since the late 1800s and has created the benchmark by which all other jockstraps are measured. A popular choice after all this time let's face it there is nothing quite like the classic Bike Jockstrap.
Although all jockstraps are sexy to wear and sexy to look, wearing one can be outrageously fetish jockstraps go beyond that. For those of you visiting a sex cub or sauna wearing a jockstrap is incredibly erotic and certain to draw attention to yourself.
Some guys like to wear their jockstrap during sex; the feeling of your testicles 'harnessed' will enhance your erection and ultimately making your orgasm more intense.
Top tip: Try wearing one under your clothes, for the gentleman who likes to ready for anything.
Shop the full jockstrap range at esmale.com
Team esmale
essentially for men