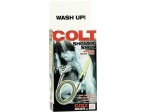 Speaking to a doctor friend yesterday he recalled all the embarrassing "accidents" involving alien objects disappearing up patients bottoms. From tangerines to mobile phones these are just a few of our favourite household objects we love to abuse.
Top gay porn studio COLT have designed a dildo and douche in one. This toy makes abusing the shower cubicle super easy without the risk of needing to be rushed into the A&E department.
The COLT Shower Shot Spraying Water Dildo Douche is a clear dildo with its own length of hose that attaches securely to your shower fitting – who thought getting clean could be so dirty!
The dildo measures 6.5 inches in length and the shaft is punctured with holes, allowing the full force of your power shower to blast its way through the shaft in every direction.
After giving this a whirl it definitely gets the thumbs up from me – I love everything about it. Suck it, roll it over your body, stick it up your bum (you can even get the shampoo out of your eyes with this douche).
Get the Colt Shower Shot Spraying Water Dildo Douche at www.esmale.com
Team esmale
Essentially male