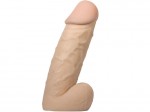 Prince Harry jokes he might go gay if things with his current girlfriend don't work out. Whilst we all wait with baited breath we have a Prince of our own who is more than happy to keep us company – Prince Charming Dildo.
In regards to size, length and girth this anal dildo has it all. While its well above average and offers a satisfying 'filled-up' to the brim feeling. This firm yet flexible dildo looks and feels like the real thing! An extra thick 8-inch beauty with realistic veins and ridges, a gorgeously shaped head and textured testicles too! A very popular dildo with great reviews!
While it's not the softest product top to bottom, it is pretty flexible, and the big fat mushrooming head is wonderfully smooth and prominent.
It seems very durable, has a great suction cup (really works vertically or horizontally), and appears able to withstand very active play. That's a good thing, too, because this guy makes you want to grind up against him. From the life-like contours to the real-feel testicles, this dildo pleasures your deepest erogenous zones with ease.
Get your Prince Charming Anal Dildo at www.esmale.com