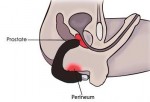 For those of you looking to explore the pleasures of prostate play this blog is for you. 'Fingering' your hole whilst having a wank can make an orgasm earth shattering. Why? This is where the prostate is located and gently probing and massaging this area feels amazing.
The guys at Rocks-Off only know this too well and have designed a range of prostate massagers that are specially designed to stimulate this area (they are even hands-free so you can put your fingers t better use if you catch my drift). The 'Rude-boy' is a smaller prostate massager perfect for beginners.
The prostate or p-spot can be found a few inches inside the anus on the side nearest your tummy, this internal erogenous zone is sometimes called the P-spot and some guys have claimed that simply massaging it led to explosive full-body orgasms and even multiple climaxes – let's face it who doesn't want some of that.
Getting to know your prostate gland isn't that difficult but pleasuring it in a comfortable and erotic way takes a bit of time and skill. It might take a few goes before you discover what works best for you. At esmale we stock a great range of prostate massagers available to help you find it, including top brands Aneros and Rocks-Off.
Check out the full range of prostate massagers at esmale.com.
Team esmale
Essentially for men