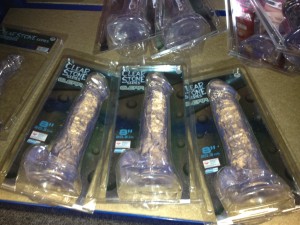 If you're searching for an anal dildo, your search engine will often lead you to the esmale site – after all, we consider ourselves the 'oracle' when it comes to male sex toys and have a stock room filled with filth!
By the powers invested in the incredible world of search engine technology technology, we are able to see which search terms land people on the esmale site. This just goes to show that we're doing our absolute best to cater for everyone.
Here are just 10 sexy search terms (containing the word 'dildo') that sent people to esmale:
"basket of dildos"
Let's face it – one is never enough!
"avatar dildo"
I'm guessing someone really enjoyed the film! The Oxballs range of gay sex toys could easily pass as props from the Avatar blockbuster.
"12 inch dildo in ass"
There's only one thing for this and it's called the Doc Johnson Big Boy and stands tall at a statuesque 12 inches.
"super deep, long, fat anal dildo"
Do you get the impression this guy knows what he wants?
"how to make an anal dildo"
Believe it or not, you can! Turn your knob into a trophy with the CloneBoy cast your penis dildo kit. This great kit includes all the ingredients needed to make your own anal dildo.
"aluminium dildo"
The Aneros Tempo Stainless Steel anal stimulator features a solid heavy head that feels amazing inside your anus and probing the prostate.
"vibrating anal dildo"
When you add a vibrating bullet to the equation there is no stopping orgasm.
"8 inch porn stars"
We have a great range of porn star realistic dildos including Brent Corrigan, Francois Sagat and BelAmi – grab them all today.
"huge inflatable anal dildo gay"
BIG, bigger, biggest – for those of you who like your anal dildo big!
Check out the great anal dildo selection at esmale – male sex toys online superstore here.