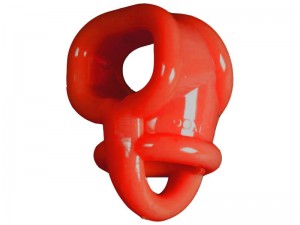 Made by our dirty DIRTY friends at OXBALLS. The Splitsling is specially designed to stretch and split your balls.
Just like the Cocksling the Splitsling grips the base of your penis before stretching your balls then splitting them down the middle with a firm yet comfortable grip. The feeling of your balls packed tight in their sack feels great but feels even better as you stroke, slap and bang some poor bugger.
This is basically a three super stretchy cock rings in one. It wraps your cock and balls like a standard cock ring, then cradles and splits your balls like a ball stretcher, giving you a nice gentle tug.
Unlike other cock rings the cock ring part grips the base of your shaft with an anatomical "channel" to allow the flow of piss and jizz. There's nothing more annoying than having to remove your cock ring to use the toilet.
Made of OXBALLS exclusive FLEX TPR, its Phthalate free of course, so it is a safe material that can stretch up to more than double it's original size. (is there anything OX has not thought of).
Check out the full range of OXBALLS at esmale.com
Team esmale
Essentiallyfor men