Tired of shooting your load before you even get started? Take a look at the great range of cock rings available at esmale. Strap a cock ring on him and control your output forever more!
The boys at esmale have dubbed the popular range of cock rings and ball stretcher toys from Oxballs the Super Stud Strap. As far-fetched as that sounds, the response from guys who have tried the Oxballs range love the fact that they can pull themselves back from the brink of premature orgasm.
Below we take a closer look at some of our favourite toys from the Oxballs range;
Oxballs Lugnutz Cock Ring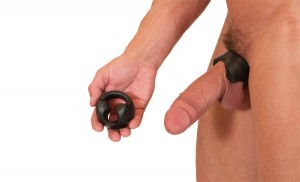 The Oxballs Lugnutz is an ergonomically shaped cock ring designed to gently grip your erection and has a larger opening for your balls. This cock ring is compatible with silicone, oil and water based lubricants. The lugnutz warms to your personal body temperature and never pinches. Oxballs toys stretch to nearly twice their size so it will fit even the biggest testicles in town.
Oxballs Bullballs Ball Stretcher
Our Oxballs Bullballs 1 is great as a cock ring but can also be used as a little ball stretching. The super stretchy silicone ball stretcher stretches to accommodate all sizes and provides a nice comfy squeeze without pinching. For those of you who are looking for a little kink why not try stacking two or …three Bullballs ball stretchers for added stretch. Oxballs products are safe to use with any lubricant and built to last. Just imagining where you put this toy made me hard and wearing it made my partner super horny.
Oxballs Gear Ass-Lock Butt Plug and cock ring – in one!
What makes the Oxballs Gear Ass-Lock Butt Plug so unique is the attached cock & ball ring that guarantees amazing anal and cock stimulation. The butt plug is ergonomically designed to target the prostate; this range of Oxballs gay sex toys delivers firm, controlled massage to the male G-spot. Whether manually controlled, or activated with the user's own muscles in 'hands-off' mode, this anal toy prods the P-spot with precision. Every stroke or thrust is transferred directly to the butt plug giving it a pulsing feeling. Have a seat and it goes even deeper within. The connecting strip provides a glorious perineum massage!
The Oxballs range is comfortable to wear during the day (at work) and hot for guys who frequent the fetish scene, this range is designed to give you plenty of pleasure and deserves to be a huge hit.
Team esmale
Essentially For Men