Tenga is the biggest-selling male masturbation toy in Japan and the highly textured Tenga Standard Edition Deep Throat Onacup has proved to be a big seller here at esmale.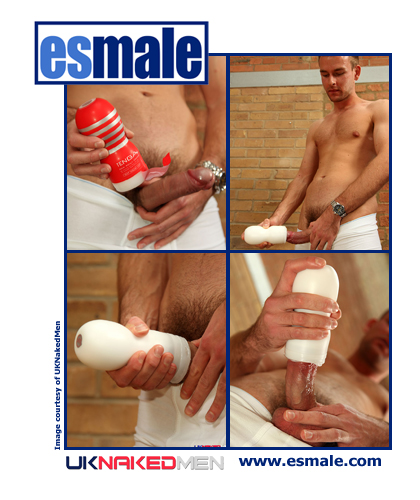 I've read about disposable Tenga masturbators, and since Japan seems to be on the front line of modern technology, I was really looking forward to using the Tenga Deep Throat Cup. However, we sent it to our mates at top porn studio UKNakedMen – after all, a picture is worth a thousand words!
This hot guy can be seen modelling the Tenga Standard Edition, but if you consider yourself a masturbatory extraordinaire, there are a range of Tenga masturbators to choose from. Choose from a Soft experience or a Hard one. Then there's the Double Hole, the Flip-Air and the Tenga egg. You can view the full range of Tenga masturbators at esmale here.
Compared to most other masturbators on the market I never expected the Tenga range to look and feel the way it does. It's lightweight, and can reside inconspicuously anywhere in your bedroom and it doesn't require any prep just tear off the plastic wrap, press play on your favourite UKNakedMen DVD, and then pop off the wide cap and away you go!
The Tenga Onacups come pre-lubed! Once you penetrate the narrow opening get you're en-route to feel the soft textures me up. I recommend beginning with a slow up and down motion, this feels amazing and before you reach climax, remove the quarter-inch sticky label on the bottom of the masturbator, here you'll find an alternative hole.
To create your preferred level of suction, experiment with covering and uncovering the hole. While continuing to stroke up and down, you can cover the small opening with your finger, and the suction grip took over the pleasure. The Tenga Deep Throat Cup is the next best thing to getting a real deep-throated blowjob.
The important thing to know about the Tenga is that it's supposed to be used once, and once only. So our advice is to make it last – or use a condom!
Japanese sex toy company Tenga was established in 2006 Japan by one Mr Matsumoto, who has certainly put a lot of effort into pioneering new ways of giving oneself a hand. Tenga really is 'the future of masturbation'. Check out the full range of Tenga masturbators at esmale here.