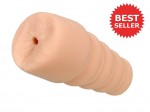 Today is 'Have a wank Wednesday'. Yes, we made it up but I'm sure you'll agree it deserves to be a national holiday. The Doc Johnson 'Ass Palm Pal Male Masturbator' is the male sex toy of the day.
This masturbator is designed to look and feel just like your plugging a hot piece of ass . Its life-like, look and feel is tight and stretchy with ultra-ribbed chamber that delivers unrivaled pleasure.
If like me your inquisitive cock loves to dig deep into anything soft, tight and cum-inducing your going to love this toy.
The toy is made of a feels soft and almost rubbery and offers a gaping ass to ram you cock into. It is open ended whicj makes cleaning a breeze. Simply lube it up and you're ready to roll. As you thrust you'll instantly feel the deep ridges tickling the head and shaft of your cock.
So for a cheap wank-off helper, it get's the thumbs up from me. 5 star rating.
Get the Doc Johnson Ass palm pal Masturbator at esmale.com
Team esmale
Essentially for men