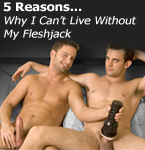 You're in control! With a Fleshjack you can have it anytime you want, however you like, the Fleshjack offers sexual gratification like no other masturbator. Trust me, the Fleshjack masturbator feels just like the real thing. Made from a soft, pliable, patented Real Feel Super Skin® each sleeve has been designed to provide the best realistic anal and oral simulation.
Using your Fleshjack will help improve stamina & performance. Whether you're a one veteran or just a newbie to the world of gay sex toys, there is always room for improvement. The Fleshjack is available in a range of textures, each one will test your endurance skills, help practice new techniques and feel a range of new sensations. View the full range of Fleshjack's here.
The Endurance Jack is specifically designed to help men improve stamina and performance, get yours here.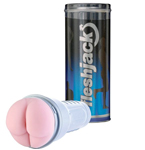 Using your Fleshjack is the safest sex you will ever have, so whether you're having trouble finding a safe partner or waiting for the right one to come along, the Fleshjack offers a a safe and satisfying means for expressing your sexuality.
With a little TLC your Fleshjack will give you a lifetime of pleasure. (If only guys were that reliable).
Editors Picks, below we have picked just a few of the bestselling Fleshjacks from the great range available at esmale.com. View the full range of Fleshjacks available here.
Team esmale