Fleshjack is the best selling male sex toy in the world! By providing a quality, discreet, and tasteful male masturbator, the guys at Fleshjack have helped change the perceptions of gay sex toys for the better.
Check out the full range of Fleshjack masturbators at esmale and choose from a variety of sleeves with textured insides, varying tightnesses and different openings, depending on your needs. This short guide will help you consider the best Fleshjack inserts; each one offers a new sensation. When you've enjoyed one, you can always come back and choose another.
Fleshjack Openings
First you will need to decide on the Fleshjack opening, do you want a mouth, stealth, or butt? Choose the opening that is the most visually appealing to you.
See the full range of Butt Fleshjacks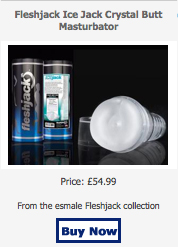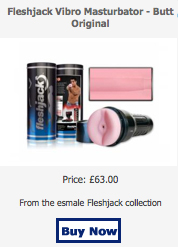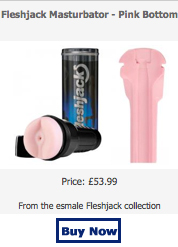 See the full range of Mouth Fleshjacks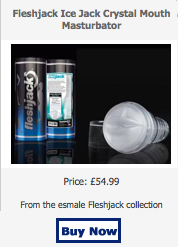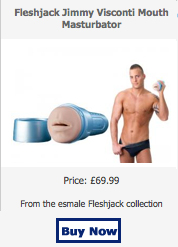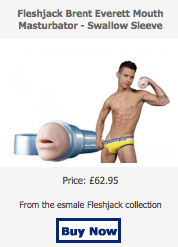 Fleshlight Insert Styles
At esmale we have a wide range of Fleshjack inserts (the canal of the fleshjack). Below is a short description of each of the different sleeves available at esmale. We recommend you take into consideration the girth of your penis when buying a Fleshjack, and no matter how big you always use lube, we recommend a water-based lube such as liquid silk or id glide, a water-based lube is compatible with all Fleshjacks.
Vortex Fleshjack
This gay sex toy is designed to create a great combination of suction, texture, and an unforgettable squeeze as you pass through each pleasure chamber; the Fleshjack Vortex sleeve is truly unique.
Whether you are an experienced user or new to Fleshjack, the Vortex will blow you away! The soft, pliable, non-vibrating Real Feel Super Skin® Fleshjack sleeve is made from a patented, high-quality material designed to replicate the sensation of penetrative sex. The molded insert sleeve comes housed in an attractive and sturdy canister that resembles an ordinary flashlight, allowing for simple and discreet storage. It's easy to use and clean, and is 100 percent safe. The Fleshjack is approximately 10 inches in length and 4 inches in diameter.
1/2 inch (13mm) Textured
Get your Vortex Fleshjack here.
Super Ribbed
The Super Tight Super Ribbed Fleshjack insert is designed for maximum stimulation! The super ribbed jack ass features dozens of soft ripples running through the entire length of the silky smooth shaft for the most intense experience of them all.
1/2 inch (13mm) Textured
Get your Super Ribbed Fleshjack here.
Endurance Fleshjack
The Endurance Jack Ass male masturbator comes with a specialized stamina sleeve and features extra-large bumps and a tight canal designed to challenge your longevity. Endure this fleshjack and you'll soon be a legend in the sack!
If you're prone to premature ejaculation this is the gay sex toy for you! We also recommend wearing a cock ring or penis ring on your penis as soon as it`s erect and this will help keep you going that little bit longer when using your Fleshjack or having sex.
1/2 inch (13mm) Textured
Get your Endurance Fleshjack here.
Fleshjack Masturbator – Classic Jack Ass
The Classic Butt Fleshjack male masturbator comes with a hot bubble butt destined to be an instant classic and the original smooth insert. Perfect for first-timers!
The Fleshjack range of gay sex toys deliver an experience not to be missed. The Fleshjack masturbator is designed to replicate the intense reluctant sensation of anal penetration watch yourself slip in and out of the tight smooth entry time and time again and let your most erotic desires be fulfilled.
3/4 inch (19mm) Smooth.
Get your Classic Jack Ass Fleshjack here.