For some the thought of anal sex remains a taboo! The truth is that many of us are missing out on the pleasures of anal sex and the pleasure you experience through anal penetration.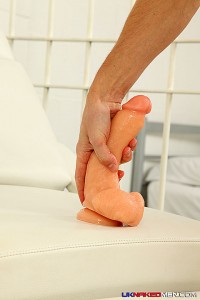 For us guys, the benefits of anal toys and stimulation are somewhat more apparent. The male anus is filled with sensitive nerve endings and home to the prostate, a gland linked to the reproductive system. Stimulating the prostate can lead to an orgasm and ejaculation without touching your penis!!! Prostate play requires practise and anal penetration to achieve.
Remember the anus is not self-lubricating, it's very delicate and friction really can cause some damage. Make sure you use a generous dollop of anal lube such as Maximus anal lube.
If this is your first time delving into the world of anal sex or using an anal toy relax and take it slow and easy. You'll probably experience some impressive resistance from your anus, so start small and working your way! We recommend beginners start with the clear anal starter dildo.
Keep it clean; invest in an anal douche. There are plenty of horror stories all over the web about the unpleasant results when during anal sex. An anal douche will make sure your anus is clean and free from any excess faeces.
Our best selling anal douche is the Ultimate Douche – a simple pump device with a tube fitting that you fill with water and use to squirt water into the anus. Don't forget to give your bum a good clean before attempting any foreplay – I'm sure that goes without saying.
Your bedroom is the best place to play with anal toys and get to know what it's all about.
Lube and more lube!!! Like we said earlier do not attempt using anal toys under any circumstances without applying a generous amount of lube to your anus and sex toys. Maximus anal lube is a best seller here at esmale. This lube is super-thick waterbased lube guaranteed to keep your sexy session nice and slippery.
View the full range of anal toys available at esmale male sex toys online superstore.
Team esmale
essentiallymale
Image courtesy of our friends at UKNakedMen