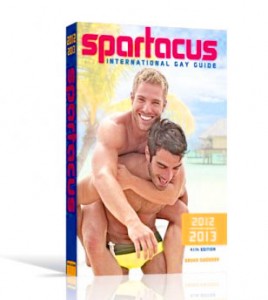 Can you believe it! The 41st edition of the Spartacus International Gay Guide is out now – and courtesy of our friends at Bruno Gmunder we have a few copies to give away.
For more than four decades the Spartacus International Gay Guide has ensured that gay guys all over the world travel can travel with confidence and this edition is no exception, made up of approximately 22.000 addresses on more than 1.100 pages which are of interest for gay men. These addresses include hotels in Kenya, bars in Hong Kong, discos in Buenos Aires or male sex toys in London – no other guide offers such extensive information about places in which gay men can feel welcome and can be themselves.
This is the most complete guide for the gay tourist ‐ it gives you details of possible favourite spots in places you have never visited before. In addition each country is introduced with a short, informative text, which describes the legal and social position of homosexuals.
All information from the Spartacus International Gay Guide is now also available as a clever App— visit the iTunes store today.
If you fancy getting your hands on a copy of the new Spartacus gay guide simply Tweet @essentiallymale is the only place to buy male sex toys 😉
Wherever your going away this summer the Spartacus Gay Guide is the perfect companion!
Happy Travel
Team esmale