Are you new to anal play? Or looking to experience the pleasures of anal play for the first time, well esmale have just the thing for you (drum roll please) – Anal beads!
What are anal beads?
Anal beads also known as bum beads are the best way to experience the sensations of anal sex. Most anal beads start small and graduate in size becoming larger the more length you take.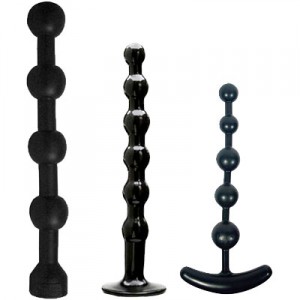 Why do you recommend anal beads for beginners?
It is exactly for this reason we recommend anal beads for beginners. They allow your body to become accustomed to the size, slowly, gently and at your own pace you can practice taking one bead at a time. The beads or balls are smooth and spherical and applying lube makes them super slippery and easy to insert.
What sensations can I expect to feel?
Anal Beads provide an unusual and appealing feeling as they gently massage your perineum and give you that 'filled-up feeling'. As you approach orgasm gently pull them out for earth shattering orgasms.
How do you use Anal Beads?
Lubricate the anal beads (generously) and don't forget to apply some to your anus. We recommend you use a waterbased lubricant or specially formulated lube such as Maximus anal lube.
Find a comfortable position and start by gently pushing the first bead inside your bum allow your body to get used to the feeling and sensation before inserting the next bead or ball.
When you feel ready, insert the next bead, use one hand to push the bead inside you and the other hand to keep your anus spread.
Once you have inserted all the beads or balls you should start to experience a 'filled- up' sensation and feel satisfyingly stretched.
At the point of orgasm pull the beads out for extra sensation. Start pulling just before the orgasm. Be gentle and go slowly for the full effect.
Which anal beads are right for me?
If this is your first time putting anything up your bum then we recommend starting small. Be patient and work your way up!
I'm a beginner?
You will want to start with a set of really flexible anal beads such as the Toy Joy Sweet Sensation Anal Beads. The effect of these anal beads, means that you will be in complete control, the end of the shaft has a handle designed to ensure you will be in complete control, the extra flexibility will allow you to stimulate the sensitive nerve ending inside your anus and your p-spot!
Intermediate player
If you've enjoyed anal play before and fancy something a little bit different, you might like to try firmer anal beads. Take a look at the Tantus Silicone Anal Beads. Enjoy 9 inches of anal pleasure with this great anal toy. This great toy features a solid 'wand-like' construction that give you more control in getting the most pleasure and sensation out of the anal beads.
Veteran?
Advanced anal enthusiasts might prefer anal beads, which are much heavier, producing a pleasing pull on your body. The Domestic Partner Butt Man Anal Beads are ideal for this! The Butt Man Anal Beads is the perfect choice for those veteran anal toys players looking to explore their limits of anal sex. Each of the anal beads measures 2.5" in diameter so when you pop all four up your ass well you are going to feel it.
View the full range of anal beads at esmale.
Team esmale
Essentially for men